Collet fan for CNC machine (chip pump)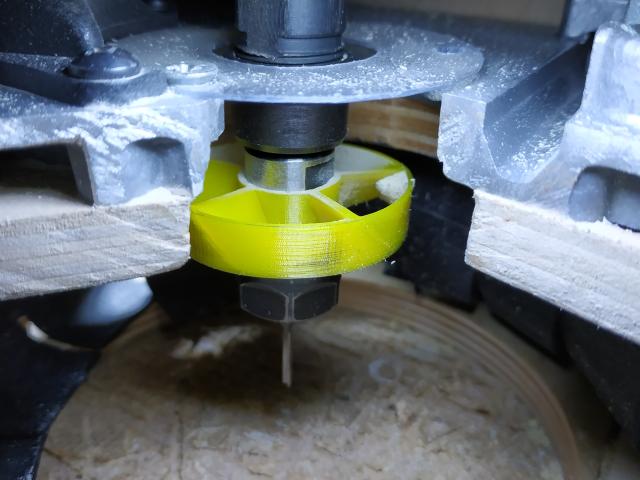 When cutting plywood at the CNC, the chips fly in all directions, for this I have a vacuum cleaner and enclosing structures that prevent the chips from flying apart. However, the chips remain in the groove after the cutter, it can be compacted there, this contributes to burning and faster blunting of the cutter.
In order to blow chips from the groove for a long time I wanted to put some small compressor, for example, to make as in this photo. However, it didn't get to the compressor, but I got a collet fan, I printed it on a 3D printer.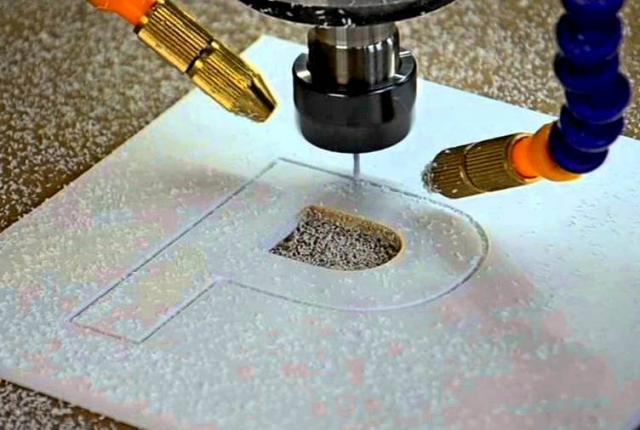 The 3D model of the fan is very simple, easily wound on a collet clamp. I put it on my CNC machine. The first launch proved to be very good, all the chips are scattered to the sides, clean under the cutter.
What I did not expect is that the fan blows so hard that even with the vacuum cleaner turned on and the closed circuit around the cutter, the sawdust fly out in all directions, the vacuum cleaner can't cope. It seems that the fan blows in air faster than the vacuum cleaner has time to suck it in, it is also possible due to the narrowed air intake under the milling cutter, it will be necessary to modernize chip removal.
I solved the problem with the shavings and got another, when there were sawdust in the grooves, they restrained the part and at the end of the milling the part remained in place, and now at the very end of the milling of the contour the part can move, which happened to me, which caused the cutter to jam and she broke. Perhaps this happened due to the fact that this time I chose the milling along the way, I usually set the opposite direction of cutting.
In general, I am very pleased with this fan, a very simple and necessary thing for CNC! If you print such a model for yourself, I advise you not to print with PLA plastic, you never know what happens, the fragments will fly in all directions. I printed the fan with PETG plastic, you can still take nylon.
Use safety glasses when working on the CNC. Good to all!
I downloaded the fan STL file for the CNC here.
Add comment
Random DIY